Diversity Recruitment & Retention Committee
---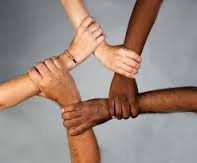 The goal of the Diversity Recruitment and Retention Committee (DRRC) is to recruit, hire and retain teachers, administrators and staff of color. Meetings are the second Monday of each month in the Fairfield Administration Building from 4-5:15 p.m.
We will celebrate our diverse staff at a special end-of-year event on April 11 from 5:30-7:00 p.m. at Fairfield High School in the Catherine D. Milligan Community Room.
DRRC members are:
Dawn Hildreth, Teacher at Fairfield Academy
Lyn King, Registered Nurse, Creekside Middle School
Gina Gentry-Fletcher, School & Community Relations Director
Roger Martin, Assistant Superintendent
Kim Wotring, Principal at Compass Elementary School
Denise Hayes, Principal at North Elementary School
Keena Westmoreland, Teacher at West Elementary School
Katie Myers, Director of Human Resources
Jill Collins, Supervisor of Human Resources
Sandi Stegman, Teacher at Central Elementary School
Ricardo Calles, Teacher at Fairfield High School
---
MRRC-Sponsored Activities
Future Teachers Program cards and letter writing sessions.

Charitable collections districtwide to benefit programs and services for Fairfield families in need.

Participation in career fairs to recruit high-quality teaching and administrative candidates of color for open positions.

End-of-year celebration of our diverse staff.
---

Diversity Recruitment & Retention Committee