Community Diversity Alliance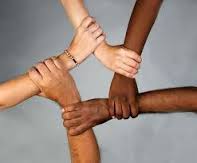 The Community Diversity Alliance (CDA)
fosters community engagement and parental involvement, and is a forum for community-based diversity conversations. Each of the schools has its own CDA, which encourages building-specific diversity programming and activities; student engagement with diversity activities; and parent study and discussion groups. We are working on a community outreach program this year that will take us into neighborhoods to find out what residents need from the schools. We will visit with residents of the Tyler's Creek Apartments at our April meeting. We welcome community members, staff and students to join our committee.
Our last meeting of the 2017-18 school year is Wednesday, April 18 from 6-7:30 p.m. in the community room at Tyler's Creek Apartments, 7777 Wildbranch Road, 45011.
We will celebrate our diverse staff at a special end-of-year dinner on April 11 sponsored by the Diversity Recruitment & Retention Committee. Details will be announced in the near future.
The members of the district CDA are:
---
Billy Smith, Superintendent
Sandi Stegman, Teacher, Central Elementary School
Jeff Stegman, District Transportation
Gina Gentry-Fletcher, School and Community Relations Director
Ta Gannaway, Parent
Ray Schmitz, Parent
Michael Berkemeier, Principal, Freshman School
Karrie Gallo, Principal, Central Elementary School
Denise Hayes, Principal, North Elementary School
Todd "TJ" Hayes, Student, Crossroads Middle School
Becky Emenaker, Teacher, West Elementary School
Dr. Paige Gillespie, Principal, East Elementary School
Iva Johnson, Bookkeeper, Crossroads Middle School
Dawn Warren Hildreth, Teacher, Fairfield Academy
Lynn Wood, Teacher, Compass Elementary School
Pam Gemperle, Teacher, Central Elementary School
Laura Woniger, Teacher, South Elementary

Community Diversity Alliance