Community Diversity Alliance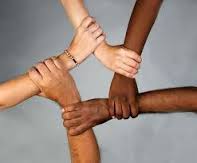 The Community Diversity Alliance (CDA)
fosters community engagement and parental involvement, and is a forum for community-based diversity conversations. Each of the schools has its own CDA, which encourages building-specific diversity programming and activities; student engagement with diversity activities; and parent study and discussion groups. We are also working on a community outreach program that will take us into neighborhoods to find out what residents need from the schools.
District CDA meetings are 6:00-7:30 p.m. at the FCSD Administration Building, 4641 Bach Lane(unless we announce otherwise) on the following dates:
Thursday, Oct. 10
Wednesday, Jan. 8, 2020
Wednesday, April 15, 2020
The members of the district CDA are:
---
Billy Smith, Superintendent
Sandi Stegman, Teacher, Central Elementary School
Jeff Stegman, District Transportation
Gina Gentry-Fletcher, School and Community Relations Director
Ray Schmitz, Parent
Sharon Schmitz, Parent
Michael Berkemeier, Principal, Freshman School
Karrie Gallo, Principal, Central Elementary School
Denise Hayes, Principal, North Elementary School
Becky Emenaker, Teacher, West Elementary School
Dr. Paige Gillespie, Principal, East Elementary School
Lynn Wood, Teacher, Compass Elementary School
Debi Robertson, Parent
Jonathan McEldowney, Assistant Principal, East Elementary School
Michelle Gallo, Parent
Jeff Madden, Director of Student Services
Nina Rose, Nurse, Fairfield High School
Missy Parrett, Parent
Sunilda Beltre, Parent
Maribel Gonzalez, Parent
Dr. Rebecca Salyers, Assistant Principal, Fairfield High School
Officer Steve Corner, School Resource Officer, Fairfield High School
Back-to-School Bash 2019!