Equity Leadership Team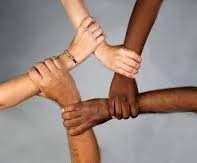 The Equity Leadership Team (ELT) is responsible for diversity-related policy issues such as review of strategic goals, professional development needs, and curriculum changes. It is a clearinghouse for district-wide diversity initiatives, and the team promotes diversity-related events. The ELT presents an annual report to the Board of Education and community to update our progress with this work. All presentations are included in the files at the bottom of this page. The Diversity Plan is also included in the file list. 
ELT Members
Co-Chairpersons:
Denise Hayes, North Elementary School Principal
Dennis Williams, Parent
Members:
Billy Smith, Superintendent
Dr. Bill Rice, Assistant Superintendent
Tracy Ashford, School Counselor, Fairfield High School
Mandy Aug, Director of Curriculum and Instruction
Janaya Chappell, Fairfield High School Senior
Gina Gentry-Fletcher, Director of School and Community Relations 
Kathy Gilbert, Director of Special Services
Kim Hauer, Director of Human Resources
Laurence Jones, Parent
Austin Keller, Teacher, Fairfield High School
Erin Keller, Parent
Marla Mays, Bullying and Harassment Specialist / Title IX Coordinator
Katie Pospisil, Secondary Curriculum and Instruction Coordinator
Gina Witko, Parent
Meeting Schedule 2023-24
Meetings are from 3:00-4:30 p.m. in the Large Conference Room at the FCSD Administration Building, 4641 Bach Lane in Fairfield unless otherwise indicated. 
Tuesday, September 19, 2023
Tuesday, December 5, 2023
*Thursday, December 14, 2023, Board of Education Meeting - Diversity Plan Progress Report Presentation (6:30 p.m. in the Catherine D. Milligan Community Room at Fairfield High School, 8800 Holden Blvd.) 
Tuesday, April 16, 2024
View Progress Report Presentations
Please select from the files below to review and download progress reports to the Board of Education about our work.
---