Equity Leadership Team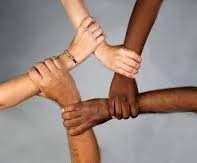 The Equity Leadership Team (ELT) is responsible for diversity-related policy issues such as review of strategic goals, professional development needs, and curriculum changes. It is a clearinghouse for district-wide diversity initiatives; and the team promotes diversity events.The ELT produces an annual report to the Board of Education and public to update on progress of goals to focus on the future. The progress reports are included in the files below.
ELT members are FHS students Deep Patel, Jabari Ashford, Madyson Walker, and Maria Nguyen; Tracy Ashford, high school guidance counselor; Laurence Jones, co-chairman and parent; Katie Pospisil, secondary coordinator of curriculum and instruction; Dennis Williams, parent; Roger Martin, assistant superintendent; Lani Wildow, director of curriculum and instruction; Billy Smith, superintendent; Gina Gentry-Fletcher, school and community relations director; Denise Hayes, co-chairman and principal at North Elementary School; and Nicci Willis, business owner and parent.
Meeting Schedule 2018-19
All meetings are from 3:00-4:30 p.m. in the FCSD Administration Building, 4641 Bach Lane.
September 19, Conference Room B
November 29, Conference Room B
February 27, 2019, Conference Room A
April 24, 2019, Conference Room A
The ELT will present a progress report to the Fairfield Board of Education at the December 20 meeting. That meeting starts at 6:30 p.m. in the Catherine D. Milligan Community Room at Fairfield High School, 8800 Holden Blvd. in Fairfield.
---