Equity Leadership Team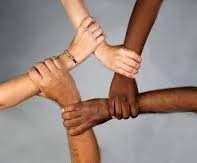 The Equity Leadership Team (ELT) is responsible for diversity-related policy issues such as review of strategic goals, professional development needs, and curriculum changes. It is a clearinghouse for district-wide diversity initiatives; and the team promotes diversity events.The ELT produces an annual report to the Board of Education and public to update on progress of goals to focus on the future. The progress reports are included in the files at the bottom of this page.
ELT members are listed below in the graphic.
Meeting Schedule 2019-20
All meetings are from 3:00-4:30 p.m. in the FCSD Administration Building, 4641 Bach Lane.
Wednesday, September 18
Wednesday, November 20
Wednesday, February 26
Wedensday, April 22
Click the image below to review the latest progress report to the Board of Education about our work. To download this presentation and others from previous school years, please select from the files listed at the bottom of this page.
---